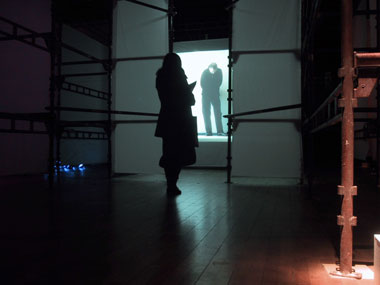 Photo above from Electrohype 2002
Jour et Nuit
Computerbased interactive video, ©2001-C.Anders Wallén
Exhibited at the ELECTROHYPE-2002 Malmö, Sweden

The interactive Video instalation first exhibited 2001 on Gotland Galleri5 Visby Sweden
VIEW a VIDEO from Galleri5 exhibition 2001.




Text from Electrohype exhibition catalouge:
When we peep into the room from a distance, the man is there. On the wall, projected, but nevertheless occupying the space, supervising it with his thoughts and his empty staring. When we enter the room to approach him, he leaves, indifferently. As long as we choose to stay in the empty room by the empty screen, he will not re-appear. However, when we finally leave, we catch a glimpse of him, re-entering, re-occupying the space that obviously belonged to him.
The interactive film installations of C. Anders Wallén build upon a minimal use of classical dramatic features like authenticity, encounter, identification and subject formation. In earlier works like "2 laugh @" or "to dance 2" Wallén worked explicitly with the staging of interactive situations, where laughter, movement and direct address reinforces the cinematographic experience into a dramatic encounter between the viewer and what is viewed.
In "jour et nuit" Wallén has simplified his means of expression in order to uncover the fundamentals of interaction and dialogue. A room, an actor, a screen and a spectator; the setting is enough to bring forward the presence/absence of The Other as a marker of a linguistic borderline.
Text: from exhibitioncatalouge/Maria Hellström Photo:Electrohype © ELECTROHYPE2002
PDF / Jour et Nuit: Electrohype2002 Exhibitioncatalouge pict & text pdf